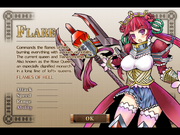 Game information
Commands the flames of hell, burning everything with a touch of nobility. The current queen and Tiana's mother. Also known as Rose Queen, an especially dignified monarch in a long line of lofty queen.
Personality
Flare is probably mature being a mother, because she is Tiana's mom.
Other information
Summon detail : You can summon her after you lose, game will ask for summon her. Using 200 crystals or 1 Flare ticket.
Magic detail : Her picture will appear at right arm side of screen then all enemies will be destroyed! HP will become 1.
Attack : --
Speed : --
Range : --
Ability : --
Element : Fire
Best Damage : --, -- and --
Quote
When using speical attack: Flames of Hell, Obey my commands!
(Note : in version 4.0's help menu, on Flare page, her quote will be the previous witch quote you open.