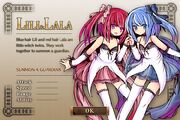 Game Information
Blue hair Lili and red hair Lala, they are little witch twins. They work together in order to summon a guardian.
Personality
Lili looks like she likes to have a lot of fun, on the other hand lala looks like she rather sit around be lazy. Also, Lili might be older because she says everything first.
Other Information
MP request to summon: 360.
MP request to upgrade: 360(First), 540(Second), 900(Max).
MP get when release: 000(Level 1), 000(Level 2), 000(Level 3), 000(Level 4).
Magic detail
Name: Summons a Guardian
Ability : Summon guardian in a way to rid all foes that hit it, however, it has limit HP to get hit(but will refill when wave end). After The guardian dies, Lili&Lala will be release.
Attack : --
Speed : --
Range : --
Ability : --
Element : --
Best Damage : Cornet, -- and --
Quote
Summon: Lili: "I'm Lili!" Lala: "I'm Lala!"
Upgrade: Both: "Transform! Good!"
Unselect Lili: "I'm Lili!"
Unselect Lala: "I'm Lala!"
Release: "Oh! We wanna play!"
Stage Clear: Both: "Justice prevails!" Lili: "Yay!" Lala: "Yeah!"
???: Both: "Huh? What is it?"