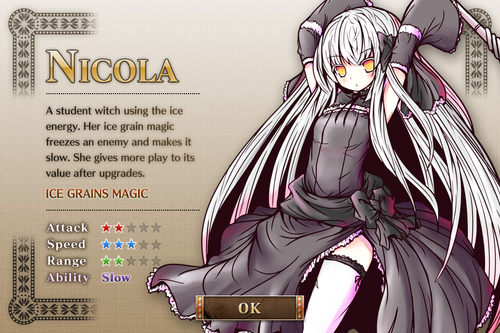 Game Information
A student witch using the ice energy. Her ice grain magic freezes an enemy and makes it slow. She gives more play to her value after upgrades.
Personality
Nicola pretends to have a calm character, but actually tends to follow the surrounding circumstances. She is very sensitive about the growth of her breast. Nicola is friends with Daisy, too.
Other Information
MP to summon: 220
MP to upgrade: 220 (Level 2) ➝ 330 (Level 3) ➝ 550 (Level 4)
MP when released: 176 (Level 1) ➝ 352 (Level 2) ➝ 616 (Level 3) ➝ 1056 (Level 4)
Magic Detail
Name: Ice Grain Magic
Attack: ★ ★ ☆ ☆ ☆
Speed: ★ ★ ★ ☆ ☆
Range: ★ ★ ☆ ☆ ☆
Ability: Slows down enemies
Element: Ice
Best Damage: Shelder, Fley, Eely
Quotes
Summon: "You won't get past me!"
Upgrade: "Freeze harder!"
Unselect: "Me? I'm just fine!"
Release: "How frustrating!"
Evolution: "This is more than enough!"
Stage clear: "It's a piece of cake!"
Level up: "Rank up!" / "I'm not done yet!"
Trivia
Nicola was voted as the most favorite witch. (The vote was held at Defense Witches' Facebook page.) From that, NEWGATE created Nicola version that main interface has big change. (In older version, it will has Daisy, Becky and Chloe, but in Nicola version (1.9.5) it instead by Nicola and Daisy.)
It is hinted through the Defense Witches comics (particularly World 2 Lesson 2) and orb power-up interactions in the game that Nicola has a crush on Daisy.